Description
Hot Cup VM 3 Selection ("KVM CP 02")
Beverage Selection / Pemilihan Jenis Minuman :    
3 Flavour Both Hot Drinks,
[3 Pilihan Minuman Panas Pracampur ]
Price Function / Fungsi Penetapan Harga :
The Price Can Be Set Depend On How Much You Want To Sell As Your Selling Price And Different Drink With Different Price Also Can Be Set, If You Like To Set "Free Fill" Also Can Be Do
[Harga Jualan Minuman Boleh Ditetapkan Mengikut Kehendak Anda Dan Setiap Minuman Dengan Harga Berlainan Juga Boleh Ditetapkan, Minuman Percuma Juga Boleh Di Tetapkan]
Paper Cup Capacity / Kapasiti Simpanan Cawan :
Can Be Load Maximum up to 75 cups
[Cawan Minuman Boleh Dimuatkan Sehingga 75 Cawan Dalam Satu Satu Masa]
Water Supply Mode / Sistem Membekalkan Air :
Water Barrel 20 Liter
[Menggunakan Air Dari Balang 20 Liter]
Density Setting Function / Had Kepekatan Serbuk :
Can Be Set For Level Of Density Of Powder You Would Like To Use In Order To Prepare The Taste Of Drink To Make It Delicious As You Like
[Kuantiti Serbuk Minuman Dan Kepekatan Bancuhan Dalam Penyediaan Air Minuman Boleh Di Tetapkan Mengikut Citarasa Anda]
Counter Meter / Meter Merekod Jualan :
Equipped With Money Counter Meter Programing, So All Sales From Machine Is Automaticly Recorded For Your Accounting,Supervising And Checking Purposes
[Mesin Dilengkapi Dengan Fungsi Rekod Jualan, Setiap Jualan Yang Berlaku Akan Direkod Untuk Tujuan Pemantauan Dan Perakauan Anda]
7.Tall Canisters / Takung Simpanan Serbuk Yang Besar
3 Units Tall Canisters For 3 Type Of Drink Selection With Load Capability Up To (7.5 KG) To Keep Save Your Instant Powder In Order To Use As Drink Powder
[ 3 Unit Takung Simpanan Powder Minuman Dengan  Takung Mampu Menyimpan Sehingga 4.5 Kg Serbuk Yang Akan Digunakan Sebagai Pembancuh Minuman Anda]
Temperature Setting
The Temperature (celsius) Drinks Can Be Adjust Depend On Your Need Start From 75° – 100°
Suhu Minuman Boleh Set Bermula 75-100 Celsius
Auto Cleaning Function / Sistem Automatik Membersih Mesin
The Machine Has Auto Cleaning Function To Clean Up Dirt From Water Hose Outlet
Mempunyai Sistem Pembersihan Automatik Untuk Membersih Kotoran Di Saluran Air
Sensor Code
Machine Has Sensor To Detect If No Water Or No Paper Cup Inside The Machine And Appear The Code At Screen And Stop The Operation Temporary
Mesin Mempunyai Sensor Untuk Mengesan Sekiranya Cawan Kertas Atau Air Kehabisan Bagi Menghentikan Operasi Seketika
Water Level Function / Fungsi Set Paras Air Minuman Dalam Cawan

The Water Level Can Be Set Depend On How Much You Want To Set As Your Drink Level In The Cup
Boleh Ditetapkan Paras Air Minuman Untuk Jualan @ Minuman Dalam Cawan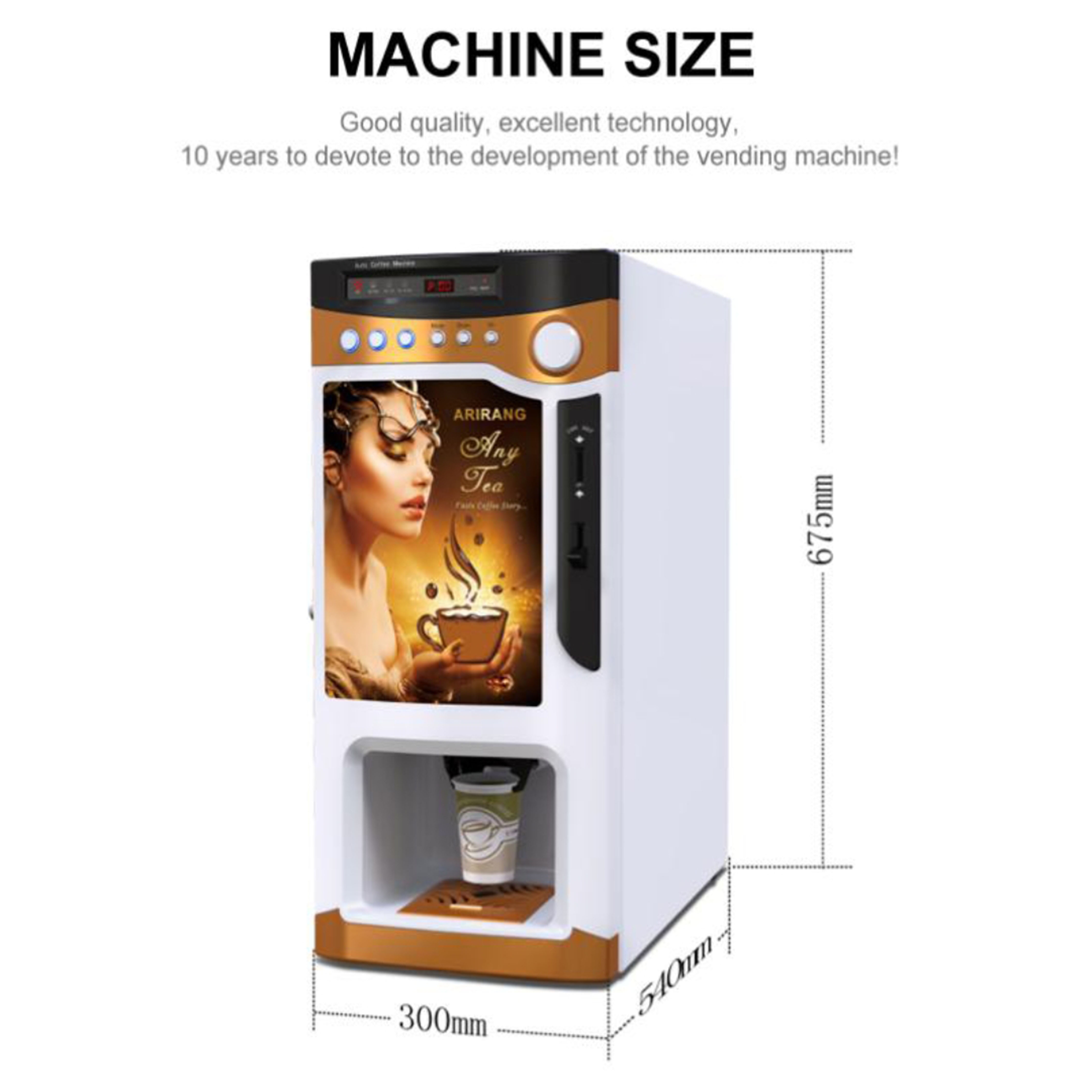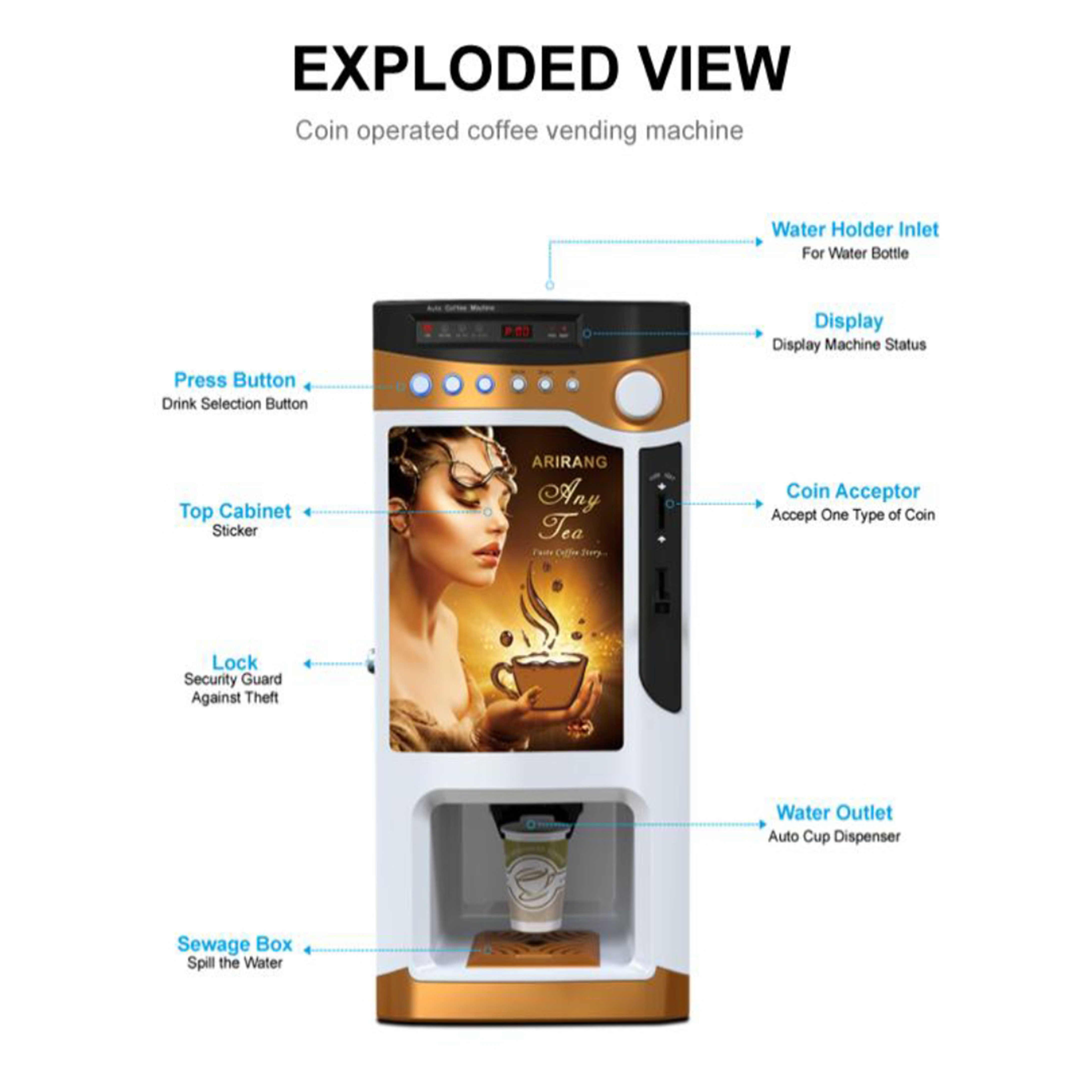 Frequently Ask Question & Answer ( FAQ )
Q1: Berapakah Saiz Mesin Ini ?
A1: Tinggi 675mm X Lebar 300mm X Panjang 540mm
Q2: Berapakah Jenis Minuman Yang Boleh Dijual ?
A2: 3 Jenis Minuman Panas
Q: Berapa Kapasiti  Muatan (Kg) Takung Untuk Simpanan Serbuk Minuman ?
A:Mesin Mempunyai 3 Takung Untuk 3 Jenis Minuman, 1 Takung Boleh Muat 2.5 Kilo Serbuk
Q:1 Kilo Serbuk Minuman Boleh Buat Berapa Cawan ?
A:1 Kilo (1000 gram) Boleh Buat 66 Cawan
Q:Berapakah Harga Serbuk Minuman 1 Kilo
A: Harga Serbuk Minuman RM13.80-RM15.00 Sekilo
Q3: Berapakah Kapasiti Muatan Cawan Di Dalam Mesin
A3: 75 Cawan Bersaiz 6.5oz
Q:Berapakah Harga Cawan Kertas, Dan Kos Cawan ?
A: RM200 ( 2000 Pcs ) , Kos 1 Cawan 10 sen
Q: Dimanakah Mesin Ini Sesuai Diletakan ?
A: Dobi Layan Diri, Pejabat Kerajaan & Swasta, Sekolah, Universiti Dan lain2 Tempat Awam
Q: Bagaimanakah Pengiraan Keuntungan Hasil Jualan Air Dari Mesin Ini?
A: Lihat Video Dibawah
Q4: Adakah Mesin Mempunyai Jaminan
A4: Ya. 1 Tahun Jaminan
Lain Lain Pertanyaan Sila Wasap Crew Kami, Klik Sini >> http://kenshou.wasap.my << @ Call Office 01123456641